I love trying out new features on my blog to see which are popular with you freaders and I do my best to keep up with the good ones (stay tuned for Monday Wants – wishlist edition next week!), but I'm going to try something a little different. There's all sorts of blogs out there – fashion blogs – that show off their own style. Now I'm no stylista but I figure once a week I can get out of my sweatpants and show off my "style." Let's see if I can keep it up!
Next Wednesday, I know a lot of people will be traveling for thanksgiving (including me! We're going to Vermont to see family! Huzzah!!!) but post your fabulous Wednesday Wear!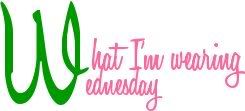 Dress: Old Navy
Leggings: Forever 21
Necklace: Forever 21
Shoes: Gap
Excuse the awful, blurry iPhone pictures.
Now, if you'll excuse me, I've got guests to prepare dinner for!