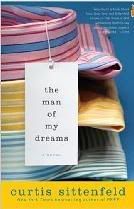 "Being raised in an unstable household makes you understand that the world doesn't exist to accommodate you, which, in Hannah's observation, is something a lot of people struggle to understand well into adulthood. It makes you realize how quickly a situation can shift, how danger really is everywhere. But crises, when they occur, do not catch you off guard; you have never believed you live under the shelter of some essential benevolence. And an unstable childhood makes you appreciate calmness and not crave excitement. To spend a Saturday afternoon mopping your kitchen floor while listening to the opera on the radio, and to go that night to an Indian restaurant with a friend and be home by nine o'clock – these are enough. They are gifts." (p. 35)
I'm not sure what I expected from The Man of My Dreams – it is Curtis Sittenfeld's second novel and from what I remember of Prep, I feel as if her writing style is drastically different in this novel from the other two (American Wife being her third) .
This book follows the protagonist Hannah and her relationship with various men in her life – her father, her various boyfriends and the man who she refers to as "The Love of my life."
You can see her grow, however, her views seem to be stagnant through most of the book. Her relationships all seem superficial and aren't quite relevant because you feel like something is missing – perhaps the fact that we never fully grasp how they ended which I feel could have been useful.
Overall I enjoyed it, the character is certainly relatable – everything from her estranged relationship to her father (check!), her shyness (check!), and her being in love with a man who dated her cousin to moving to a city for a man.
I do feel that the ending should have been different. Perhaps, happier for our protagonist, though it does prove that you should never move anywhere just for a man. Few authors can get away with a book without a *real* happy ending, but I think making her comfortable in her own skin and realizing she doesn't need a man to be happy among other things…that works just as well.
Overall, a good, quick read. You'll enjoy it if you enjoy Curtis Sittenfeld's style. The one thing I felt, as I often feel with her novels, is that the ending felt rushed and that I was left with a "that's it?" feeling. I give this book 3.5 out of 5 (I really need a better rating system – anyone have any suggestions??) – definitely pick it up, especially if you enjoyed her other books and have any lingering issues from your adolescence with men…you'll be certain to relate!
(5/52)