I got off my #31daychallenge track. It's my own fault really.
I think I'll go to Boston…
I hadn't mentioned about this because my friend Ryan and I wanted to surprise his wife (and my close pal) Jean. But I made a lil jaunt up to Boston this weekend for the Frozen Fenway game between Northeastern (GO HUSKIES) v. BC. Boston was amazing (as always) but I did not go to yoga or go running as I had originally planned/hoped to do. I mean, that's to be expected when you're there for hockey and birthday parties. On that aside, I also didn't go as heavy on the drinking as I have been known to do during trips to Boston (bachelorette party NOT included…that was an exception).
Jean and I @ Jillians – I love surprising her 🙂
Not bad seats! Granted my boys lost. Badly but it was still super fun to be there.
I always get a little nostalgic when I go back. It's weird going back to places where you remember so much and  just want to call up people that you no longer talk to, people who aren't in your life anymore. Walking through places and remembering laughter and tears and long drawn out conversations into the night on benches. When I go back with hubs, I share the fun stuff – the parties, the accomplishments, the friends and memories shared. I don't share the screaming matches that make me shiver when I remember, the tears over broken hearts gone past – the stuff that leaves behind nasty ghosts in a city I will always LOVE.  I mean, it's a bit…just sad…when you think about all the memories with people and half of them you'll never see or talk to again. It makes me a little bit nostalgic but grateful at the same time for the friendships I have maintained since then and the love I found with the husband and how full my life is these days. No matter what though, our little group will always share memories and be linked in ways no one else can understand. But as I need to remind myself, even six years later, that closure is over rated.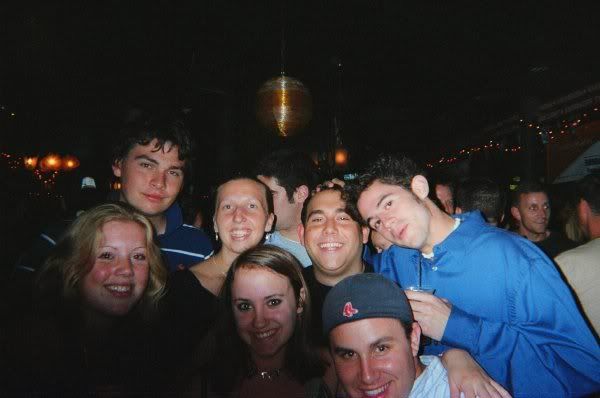 Bringing it back to September 2004.
Getting back on track…
While I didn't schedule time to work out this weekend, I find that that's a common-ish I have when I travel (case in point: Hubs and I not doing any workouts when we were up north over the holidays) and something I want to work on for my upcoming trips to San Antonio and Vermont in the coming months.  I have scheduled my workouts for the week:
Mon – run 3 miles
Tues – X-train (elliptical)
Wed – Speed workout (6×400) (~4.75 mi)
Thurs – xtrain
Fri – yoga
Sat – yoga
Sun – 6 mile run
The first thing I did yesterday was go for a grocery shop. It was super convenient that Trader Joes was right on the way home so despite the fact that I had a pounding headache (that'll teach me for not packing an extra pair of contacts on my vacation – of course my right contact lens RIPPED IN HALF ON SATURDAY MORNING and of course I FORGOT TO PACK MY GLASSES), I made a point to pick up food for the week.
I had considered popping over to the gym but given the pain of my head and the fact that I was in glasses for the night, I decided against it. Tonight however, the treadmill and I have a pre-gossip girl date.
Weekly goals
Estimated mileage: If i stick to my workouts this week, I should hit  ~14 miles (not including elliptical times)

Hit up the gym as scheduled (see above)
Drink more water. I've been laying on the Diet Dr. P a bit much for my liking time to limit myself and ween myself off the peppery sweet goodness.
Get to bed! Hubs and I have been chatting late and it's affecting my AM workouts. While he's forced to get up regardless what time he goes to bed, I have the friend we all love to hate…the snooze button.
Read 3 chapters per week  for my Personal Training Certification exam. Also, make a study guide!
Stay tuned later for my 10 lb challenge weigh in!
What are your goals for this week? Do you find it hard to stick to your workout plan when you travel? How do you prepare yourself to workout when you're traveling??